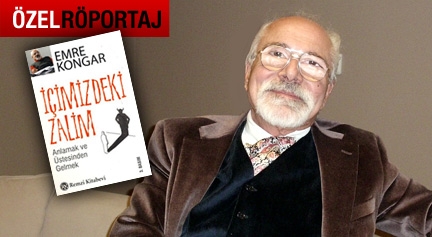 Batur Fatih Ä°lhan

"İçimizdeki Zalim adlı son kitabımı tanıtmak için ne yapmalıyım?" diyordu web sitesinde Prof. Dr. Emre Kongar… Bir çağrı olarak gördüğüm bu soru, beni yola koydu. Türkiye'nin önde gelen sosyoloji profesörlerinden Kongar Hoca'nın yeni eseri, hayatlarımızın sahici ayrıntılarında "zalimliğin"in izini sürüyordu. Kitap hayli enteresandı. Yazarı okuruna içmesi için bir bardak su uzatırcasına yazmıştı satırlarını, kolayca okunması belki bundandı…

Cumhuriyet Gazetesi köşe yazarı, NTV programcısı ve üniversite öğretim görevlisi Kongar Hoca, kişisel sitesindeki yazısı "Ses sanatçıları son CD'leri çıktığında genellikle bir aşk öyküsüyle veya yarattıkları bir skandalla gündeme geliyorlar. Orhan Pamuk, yeni kitabının tanıtımı için, paltosuyla bir hamama girip fotoğraf çektirmişti. Ahmet Altan da Hülya Avşar'la tango yapmıştı" biçiminde sürdürüyordu. Muzırlık bu ya, benim de aklıma hemencecik pop şarkıcısı, besteci ve söz yazarı Yalın'ın "Zalim, oyun bozan…" şarkısı aklıma geliverdi. Mesela Emre Kongar ve Yalın, 'İçimizdeki Zalim' kitabı için reklam filminde oynarlarmış, fonda 'Zalim' çalarmış…Hayal bu ya!

Ama koskoca bir profesör, popüler kültüre –sırf promosyon olsun diye- bu kadar teslim olur muydu? Kitabın içinde vur-patlasın/çal-oynasın mevzular mı anlatılıyordu? İşin içinde 'Dansöz ne zaman çıkacak?' merakını uyandıracak bir dürtü var mıydı?

Tüm bu soruların cevaplarını, kitapevlerinin yolunu tutacak sizlere bırakmayı tercih ederek, sizleri, Türkiye'nin en aklı başında kanaat önderlerinden Emre Kongar'la baş başa bırakmayı yeğliyorum. İster oyunbozanlık deyin ister didaktik olma çabası. İyisi mi siz, bizden ziyade Kongar'a kulak verin…

"Bu Konuyu Zulmün Nedenlerini İrdelemek ve Mücadele Etmek İçin Seçtim"

Yeni kitabınız 'İçimizdeki Zalim'de; acımasız ve haksız davranmayı, güçlü bir kimsenin yasaya veya vicdana aykırı olarak başkasını uğrattığı kötü durumu, kıygıyı, eziyeti ve efendim en nihayet, cefayı konu ediniyorsunuz. Konu seçiminizin gerekçesi nedir? 280 sayfalık kitabınızı hangi motivasyonla kaleme aldınız?

Kanımca gerek insanlığın gerekse Türkiye'nin en önemli sorunu demokrasinin ve insan haklarının kurumlaşması. Bu kurumlaşmanın önündeki en önemli engel de "zulüm". Bu nedenle konunun hem bireysel hem de toplumsal ve siyasal boyutlarına eğilmek, zulmün nedenlerini irdelemek ve onlarla mücadele etmek için bu konuyu seçtim. Yani hem güncel, hem de yapısal bir sorun olduğu için.

Analitik düşünmek; dünya meselelerine eleştirel bakmak, okumak ve sonra da yazı masanızda yazmak işçiliği sizde kendine nasıl bir karşılık buluyor?

Benim için bu bir yaşam biçimi. Bütün ömrümce böyle yaşadım, ölene kadar da böyle yaşayacağımı umut ediyorum.

Öğrenmenin-araştırmanın ve bulgularınızı aktarmanın bir sonu var mı sizin için?

Hayır yok. Yani son, "son nefeste" gelir benim için. Yani ölmeden önce elden ayaktan düşmem ve zihinsel yeteneklerimden yoksun kalmam inşallah!..

Yazmayı/bilim insanı olmayı neye değişmezsiniz?
Hiçbir şeye!

Feridun Andaç imzalı EMRE KONGAR KİTABI'nda (İş Bankası Yayınları-2009) "Herkesten bir şey öğrendim" diyor ve ekliyorsunuz: "Öğrencilerimden, okurlarımdan, izleyicilerimden, çocuklarımdan ve torunlarımdan öğrenmeye devam ediyorum…". Bu yaklaşımınızdaki, entelektüel mütevazılık mıdır? Bu engin tevazunun kaynağı nedir?

Hayır asla tevazu değil, bütünüyle gerçek: Çünkü öğrenmenin sonu yok ki… Öğrenmesini, bakmasını, görmesini bilen bir kişi herkesten her an bir şeyler öğrenir. Üstelik bu dünyanın en güzel, en zevkli en tatmin edici işidir.

"Aylak Aylak Sokaklarda Dolaşırım!"

Türkiye'ye bir 'Emre Kongar daha' gelir mi sizce?

Şu anda bile benden ileri, beni geçmiş pek çok genç arkadaşım var. Çağdaş bilim tutkusu beni geçen ve geçecek olan pek çok kişiyi üretiyor.

Sizin işlerini izlediğiniz yerli-yabancı yazarlar/sosyologlar kimler?

Prof. Yılmaz Esmer, Prof. Sencer Ayata, Prof. Binnaz Toprak, Prof. Sema Erder, Prof. Sevil Atauz ve daha birçokları. Tarihçi olarak da elbette Prof. Halil İnalcık, Prof. İlber Ortaylı, Prof. Zafer Toprak ve diğerleri. Yabancılar arasında da daha çok interdisipliner çalışma yapanlar var örneğin David Harvey ve Ray Kiely gibi isimler.

'Emre Kongar çalışmadığı zamanlarda neler yapar, hobileri nelerdir?

Okur, okur, yine okur, sinemaya, tiyatroya konsere gider(di). Bir de aylak aylak sokaklarda dolaşır.

E-teknolojilerle aranız nasıl? Mesela e-posta ve BlackBerry/iPhone/iPad kullanıyor musunuz? Bilgisayarda tercihiniz Mac mi yoksa PC mi?

Masaüstü ve dizüstü ikişer tane bilgisayarım var. Dizüstülerde sorun F klavye. Bir Mac'im, bir de PC'im var. İkisi de F. Cep telefonu kullanmıyorum, teknolojik nedenlerden değil, hayatımı kendi istediğim gibi yaşamak için.

Müzik dinler misiniz sıklıkla? Favori türünüz hangisidir? Beğendiğiniz ses sanatçıları/yorumcular/bestekârlar kimlerdir?

Sabahları iPod'umla yürüyorum. Grace Jones, Moby, Ian Curtis, Future Sound of London, Leftfield, Hybrid favorilerim arasında.

"Kendi Kitaplarım Dışında e-Kitap Okumayı Sevmiyorum"

Şu an okuduğunuz kitap hangisi?

Alan Richards ve John Waterbury'nin A Political Economy of the Middle East.

Siz hep evinizdeki devasa kitaplıkla anılırsınız. Kaç kitabınız vardır kitaplığınızda?

12 binden fazla kitabımı Anadolu Üniversitesi Kurtuluş Savaşı Müzesi Kütüphanesi'ne bağışladım. Hâlâ birkaç bin var herhalde.

Bugüne dek kaç kitap okumuşsunuzdur?

Nasreddin Hocanın eşeğinin kuyruğundaki kılların sayısı kadar!

E-kitap okuyor musunuz? Klasik kitaba kıyasla e-kitabın artıları var mı; neler?

Yazdığım kitapların yayına hazırlanması sırasında okuduğum kendi kitaplarım dışında e-kitap okumayı sevmiyorum. Kitabı elimde tutmalı, hissetmeliyim. Bu konuda eski kafalıyım galiba. iPpad'im de yok, armağan vermek istediler, almadım.

DVD film izler misiniz? En son hangi filmi gördünüz?

Pek DVD izlemem, en son "Good Night, Good Luck" filminin DVD'sini izlemiştim. Sezon filmlerine giderim genellikle. Son filmlerin pek çoğunu izledim. Sinemayı severim ve izlerim. Ne yazık ki film festivalindeki muhteşem filmleri göremedim zaman yokluğundan.

"Facebook'a ve Twitter'a Vaktim yok!"

Facebook ve Twitter sitelerinde profil bulundurmuyorsunuz. Buna ihtiyacımız olmadığından mı? Ya da bu girişimi beyhude bulduğunuzdan mı? Veyahut da böyle bir aktivite için ayıracak zamanınız olmadığından mı?

Vaktim yok! Yazılarımı zor yetiştiriyorum, derslerime ve NTV'deki programa zor hazırlanıyorum. Ayrıca kendi internet sitem var: www.kongar.org. Burada hem gazetede çıkan yazılarımı depoluyorum, hem de her hafta Pazartesi günleri sırf bu site için "Güncel" başlığı ile bir yazı kaleme alıyorum. Meraklısı oraya bakabilir.

Sizce bu sosyal ağlar getiri-götürü bağlamında iletişimin hangi dalında yükseliyor? Varlıkları medeniyete ne katıyor?

Asla ihmal edilemeyecek bir iletişim biçimi. İnsanlar ünlülerle ve arkadaşlarıyla iletişime geçerek yeni bir kimlik oluşturuyor, yeni etkinliklerde bulunuyorlar. Çok önemli bir sosyolojik olay. Çağımızı da çok etkilediği muhakkak.

İnsanları ama özellikle de gençleri çok sevdiğiniz biliniyor. Bu röportajı okuyan gençlere mesajınız ne olur efendim?

Biraz ahlaklı olsunlar ve çok çok okusunlar, çok sorgulasınlar

Üzerinde çalıştığınız yeni proje nedir? Tezgâhta ne var?

İki kitap var ama şimdilik konuları bana kalsın.

SUPERONLINE okurları için, sizden bu görüşmelik son bir mesaj istesem, dudaklarınızdan hangi kelimeler dökülür?

Son kitabım "İçimizdeki Zalim"i bütün anne babalar ve öğretmenler, ama özellikle de gençler okusunlar, kendilerini ve toplumu geliştirme konusunda çok yararlanacaklardır diye düşünüyorum.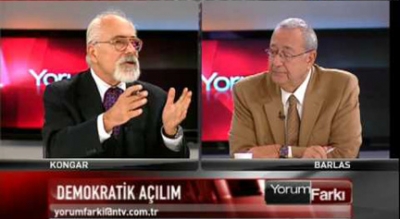 Emre Kongar kimdir?
13 Ekim 1941'de İstanbul'da doğdu. 1963'de yılında Siyasal Bilgiler Fakültesi Maliye ve İktisat Bölümü'nü, 1966'da da Michigan Üniversitesi Sosyal Çalışma Yüksek Okulu'nu, M.S.W. derecesiyle bitirdi. 1968'da Hacettepe Üniversitesi'nde Sosyal Çalışma Yüksek Okulu'nu kurdu ve buraya müdür olarak atandı. 1981 Temmuz'unda "Atatürk ve Devrim Kuramları" adlı takdim teziyle Hacettepe Üniversitesi Senatosu'nca profesörlüğe yükseltildi.

15 Şubat 1983'te, askeri rejimin üniversite konusundaki uygulamalarını protesto etmek için üniversiteden istifa etti. 1983-1987 arasında Hürriyet Gazetes'inde danışmanlık, 1987-1991 arasında da 'Kamar Kamuoyu Araştırma Şirketi'nde yöneticilik yaptı. 17 Nisan 1992'de Kültür Bakanlığı Müsteşarlığı'na atandı. Kasım 1995'te müsteşarlık görevinden ayrıldı, 1996'da üniversite öğretim üyeliğine geri döndü.

15 Ocak 1996'da Federal Almanya Devleti tarafından Üstün Hizmet Madalyası Büyük Liyakat Haçı'yla, 1 Şubat 1996'da İtalya Devleti Commandatore Madalyası'yla, 15 şubat 1996'da da Polonya Devleti 'Commandor Nişanı'yla ödüllendirildi. 2001'de Cumhuriyet Gazetesi yayın danışmanlığına atandı. Halen Cumhuriyet Gazetesi'nde "Aydınlanma" adlı köşesinde yazarlığı sürdürüyor. Bir yanda da Yıldız Teknik Üniversitesi'nde(YTÜ) saat başı görevli ve Müjdat Gezen Sanat Merkezi'nde(MSM) de fahri olarak hocalık yapıyor.

"Türkiye'nin Toplumsal Yapısı" adlı kitabıyla 1977'de Türk Dil Kurumu Bilim Ödülü'nü, "Toplumsal Değişme Kuramları ve Türkiye Gerçeği" adlı kitabıyla 1979'da Sedat Simavi Vakfı Sosyal Bilim Ödülü'nü, "21. Yüzyılda Türkiye" adlı kitabıyla, 1998 Aydın Doğan Sosyal Bilimler Ödülü'nü kazandı. Prof. Dr. Kongar, evli ve üç çocuk sahibidir.

Yayınlanmış Kitapların Listesi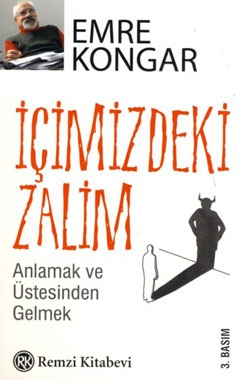 • İzmir'de Kentsel Aile, Türk Sosyal Bilimler Derneği Yayınları, A-3, Ankara, 1972. (Doktora tezi).
• İnsanı Yönlendirme ve Sosyal Hizmetler, (ilk baskı, Sosyal Çalışmaya Giriş, Türk Sosyal Bilimler Derneği Yayınları, G-2, Ankara 1972), Hacettepe Üniversitesi Yayınları, A-25, Ankara 1978.
• Toplumsal Değişme Kuramları ve Türkiye Gerçeği, Remzi Kitabevi, İstanbul 1999. (7.basım) (Doçentlik tezi).
• Devrim Tarihi ve Toplumbilim Açısından Atatürk, Remzi Kitabevi, İstanbul, 1999. (4.basım) (Profesörlük takdim tezi).
• Cavit Orhan TÜTENGİL, Türk Dil Kurumu Yayınları, Ankara, 1982.
• Türk Toplumbilimcileri I, (Yazan ve Derleyen) Emre KONGAR, Remzi Kitabevi, İstanbul, 1996. (3.basım).
• Türk Toplumbilimcileri II, (Yazan ve Derleyen) Emre KONGAR, Remzi Kitabevi, İstanbul, 1996. (2.basım).
• Kültür Üzerine, Remzi Kitabevi, İstanbul, 1994. (4.basım).
• Demokrasi ve Kültür, (Kültür Üzerine 2), Remzi Kitabevi, İstanbul 1993. (2.basım).
• Kültür ve İletişim, (Kültür Üzerine 3), Say Yayınevi, İstanbul, 1986.
• 12 Eylül Kültürü, (Kültür Üzerine 4), (İlk baskı, 12 Eylül ve Sonrası, Say Yayınları, İstanbul, 1987), Remzi Kitabevi, İstanbul, 1995. (3.basım).
• Atatürk Üzerine, Remzi Kitabevi, İstanbul, 1994. (2.basım).
• Üniversite Üzerine, Hil Yayınevi, İstanbul 1984.
• Türkiye Üzerine Araştırmalar, Remzi Kitabevi, İstanbul 1986.
• Demokrasi İşçinin Ekmeğidir, Türk Harb-İş Yayınları, Ankara, 1987.
• Yaşamın Anlamı, (Denemeler), Remzi Kitabevi, İstanbul, 1997. (Açıklamalı 6.basım).
• Hocaefendi'nin Sandukası, (Roman), Remzi Kitabevi, İstanbul, 1999. (12.basım).
• İstanbul Halkının Günlük Yaşam Biçimi ve Tüketim Davranışları, (Prof.Taner BERKSOY ile birlikte), İstanbul Ticaret Odası, İstanbul 1990.
• İstanbul Tüketicisinin Perakende Alışveriş Alışkanlıkları, (Prof.Taner BERKSOY ile birlikte), İstanbul Ticaret Odası, İstanbul, 1991.
• Yirmibirinci Yüzyılda Dünya, Türkiye ve Kamuoyu, Simavi Yayınları, İstanbul, 1992.
• İmparatorluktan Günümüze Türkiye'nin Toplumsal Yapısı, Remzi Kitabevi, İstanbul, 1997. (10.basım).
• Ben Müsteşarken, (Anılar), Remzi Kitabevi, İstanbul, 1998. (6.basım).
• Demokrasi ve Laiklik, Remzi Kitabevi, İstanbul, 1997. (2 basım).
• 21.Yüzyılda Türkiye, Remzi Kitabevi, İstanbul, 1999. (25. basım).
• Yamyamlara Oy Yok, Remzi Kitabevi, İstanbul, 1999, (4. Basım).
• Konsantremi Bozma, Remzi Kitabevi, İstanbul, 1999, (2. Basım).
• İstanbul Halkının Yaşam Biçimi ve Sorunları, İstanbul Ticaret Odası, İstanbul, 1999.
• 28 Şubat ve Demokrasi, Remzi Kitabevi, İstanbul, 2000
• Kızlarıma Mektuplar, Remzi Kitabevi, İstanbul, 2000, (42. Basım)
• Küresel Terör ve Türkiye, Remzi Kitabevi, İstanbul, 2002, (6. Basım)
• Demokrasi ve Vampirler, Remzi Kitabevi, İstanbul, 2002
• Yozlaşan Medya ve Yozlaşan Türkçe, Remzi Kitabevi, İstanbul, 2003
• Babam, Oğlum, Torunum, Remzi Kitabevi, İstanbul, 2003
• Trajikomik Remzi Kitabevi, İstanbul, 2006